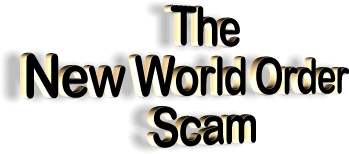 by The Double Cross
from NWOScam Website


The biggest DOUBLE CROSS in ALL history!

Have you ever considered the possibility that the so-called "New World Order" is not intended to be what the volumes of literature on the topic suggest it would be, but instead...
Bringing into FOCUS...

the REAL "New World Order..."
...might this threat exist solely to engineer a social reaction that will ultimately become (or empower) something that the majority of the people left behind will WANT!!!

Contents